Recent Posts
91
« Last post by djfunny28 on August 03, 2018, 06:16:50 am »
Ambition/Intention
This project will popularize crown platform among computer science students and software engineers as a blockchain for applications. Our aim is to create a steady meet-up workplace where students Learn and Collaborate to build innovative solutions entirely on the crown blockchain. We expect that this project would lead into an independent Tech-Hub founded by crown platform in Nigeria

This project aims to develop a vibrant community for crown in Nigeria Specifically in the Premier University and the Polytechnic Ibadan Nigeria Oyo State. Due to the fact that we have noticed a growing community of blochchain enthusiast in both tertiary institutions
Our goal is to expose the crown blockchain to active and talented student developers such that they can contribute their creative talents to develop useful applications that provide solutions to human needs on the crown blockchain thereby maintaining and sustaining the culture and community of crown among able youths.


We are keen to taking steps that would lead to long-term engagement, activity and popularity of the crown platform. This project would involve three months of intensive trainings, collaboration, brainstorming and hypothesis generation that would lead into readymade solutions resources for motivated students to explore during their final year projects.


We shall also be reaching out to the next batch of the Nigerian Youth Service Corps Camp in Oyo State. The NYSC which has existed more than 40 years and turns out more than 300,000 students annually organizes a 3 weeks orientation camps for graduate students where registered organizations, big corporations and influencers offers trainings and entrepreneurial skill development before being dispatched to their place of primary assignments.
We shall get the required registration to grant us access to the next batch of energetic crowd scheduled for November, to introduce crown platform and the opportunities offered. We believe our engagement with interested youths after the introduction would yield edible fruits for the community. We shall also be making some donations of crown to some of our new recruited member wallets that would be submitted in reports for verifying reasons.

Features

Core focus of this project would be to Learn – Collaborate and, – Innovate.

Proposal Timetable and Turning Point:

Crown meet-up Scheduled for Campus Awareness for three consecutive months with aggressive awareness campaign, words of mouth engagement and provision of suitable environment to learn, collaborate and develop solutions. The three targeted months are:
September 22nd -
October 27th
November 24th


Success Definition

1- Established Presence of Crown Platform in the University Campus (University of Ibadan)
2. Acceptance of Crown coin by Student merchants. At least 5
3. Built interest of students towards creating solutions on the crown blockchain during their final year project.

FOR These to happens or needs are as follows;

2 Separate Roll-up barners and promotion materials for Campus Students such as flyers of different types, Crown accepted here stickers for merchant promotion, 3 dozens of T-shirts, 2500 CRW, Hall for Monthly Meet-up within Campus (3months), 2000 CRW, Registration costs for camp evangelism, 1500 CRW, Free Wi-Fi 1500 CRW, Reserved for Donations 500, Event organizing 1000 CRW. Total requested funds: 9000CRW

92
« Last post by higherbridge on August 02, 2018, 09:55:34 am »
NEW HIGH PRIORITY WALLET RELEASE
After encountering a scenario where many active nodes crashed, the Crown team have a released a high priority wallet update.
This update is non-mandatory but we highly recommend you take the time to upgrade.
Find out more info and instructions HERE
93
« Last post by Araxon on August 01, 2018, 11:41:08 pm »
Ok, thank you!
I destroyed the nodes and started over! The next time I´ll try to change de IP in the wallet.
I´ve installed a new version wallet and systemnode, v0.12.5.1 and had to start the missing nodes. There´s no announcements about it in this forum. I wonder why.
95
« Last post by EdwardMorra on July 30, 2018, 05:25:39 pm »
Check out the Crown Community Meetup Agenda for this Saturday
Team and Development Updates, Community interventions, new Crown projects, panel discussions and more!

Agenda for the Crown Community Meetup in Essen on August 4th 2018
Save the date!
This saturday, the global Crown Communty will be meeting at the BlockchainHotel in Essen. After London, Prague, Toronto, Amsterdam and Miami, this time we are coming together at the former center of the German coal mining industry! This is the agenda for a day - packed with updates, exclusive news, discussions, networking, giveaways, and of course:
bringing the Crown Community together!
We sincerely invite everyone to participate in this free event! Be sure to make it on time to register and receive your accreditations. Whether you are that veteran Crown whale with dozens of Masternodes, the newcomer who only heard about crypto last Saturday, a BlockchainHotel visitor or a regular guest of our great venue, the UnperfektHaus in Essen, come along and meet one of the unique crypto-DAOs!
Venue: BlockchainHotel @ UnperfektHaus
Friedrich-Ebert-Straße 18–26, 45127 Essen
24 hour Parking:
Parkhaus am Weberplatz Wolf GmbH
Kreuzeskirchstraße 35, 45127 Essen
Meetup Event:
https://www.meetup.com/de-DE/Crown-Platform-Community-Meetup-August-4th-Essen-Germany/events/251710672/
How to get there once you are in Essen:
http://www.unperfekthaus.de/anfahrt/
Any questions? Contact
[email protected]
or join us on Telegram at
https://t.me/crownplatform
See you on Saturday!
96
« Last post by EdwardMorra on July 28, 2018, 08:23:27 am »
Same script will work, on local wallet be sure to change the IP by right clicking -> Edit alias
97
Such nice designs. Really glad to have you on board!
98
« Last post by Araxon on July 26, 2018, 06:13:42 pm »
Hi!
I want to change the VPS from DigitalOcean to ArubaCloud because of the price.
Can I install the same script in the new server with my private key or I need a different script?
Thanks!
99
Hi all, here's another update for the Crown Design Services in July. Thanks.
Any questions, feel free to let me know.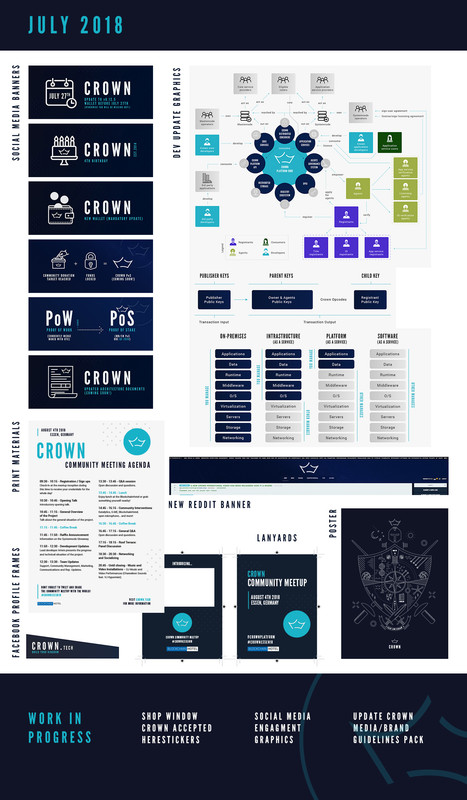 Thanks
Dave (Midnight)